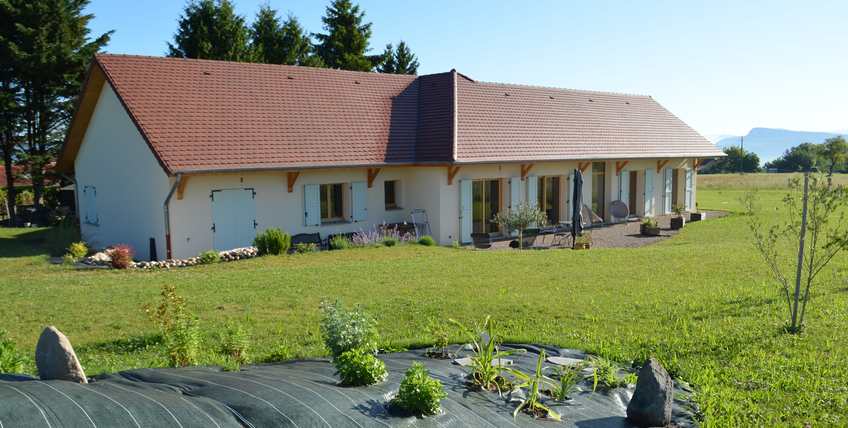 NOTRE ACCUEIL DANS LA PREVENTION DU COVID-19
Thank you for your interest in our guesthouse and for your trust.
We welcome you again from June 22!
Cette saison 2020, très spéciale en raison de la crise sanitaire, nous amène à prendre des mesures pour que vous vous sentiez en sécurité et que vous gardiez l'esprit libre pour profiter pleinement de vos vacances à la Paumanelle ,dans les Vals du Dauphiné.
Rest assured, your health, our health, are our priorities during your stay.
Be assured that I have taken the necessary hygiene measures for you welcome in peace.
I will welcome you wearing a mask, hydroalcoholic gel is made available upon entering the house and in guest rooms.
Our guest house La Paumanelle is a small structure with 2 bedrooms. 2 chambres.
Our maximum capacity is 2 people per room, couple or single person.
They are independent of each other and each have private access.
Common areas, such as bedrooms, are ventilated and distancing measures can be fully observed.
Our guests enjoy an environment of greenery, calm and well-being far from the crowds.
The view is soothing and allows a return to nature in all serenity.
Regarding meals and breakfasts restauration :
- The Breakfast Breakfast is offered on the terrace in good weather or in the living room with respect for distances and always a wide choice of local products.
The table d'hôtes The table d'hôtes is unfortunately temporarily unavailable, you can bring your picnic or go to a local restaurant or we can offer you a meal tray
The fact of no longer being able to share the meal in a friendly atmosphere around the table with you no longer makes sense for us. We will resume as soon as possible.
Cleaning
- I clean the rooms and common areas every day, several times a day for the commons.
- Housekeeping in your bedroom will be made every day during your stay at the provided that personal effects (clothes, computers, toiletries…) have been picked up and put away.
- At each departure, the rooms and bathrooms in their entirety are cleaned and disinfected.
I strengthen my protocols cleaning by disinfecting all surfaces likely to be affected (handles, switches, furniture surfaces, etc.).
- The cleaning of the linen of the rooms (sheets) is ensured by a industrial laundry for whom cleanliness is a profession. The towels and pillows are washed at 60 ° by my care.
- I temporarily removed the cushions decoration and plaids because it is impossible for me to wash after each stay.
- Books and documentation, not essential for life, are also withdrawn momentarily. We can provide you with documentation in depending on your area of ​​interest and your plans for visits.
Booking and payment
- For this 2020 season, exceptionally we do not ask for a deposit.
- Thank you for calling us before to book online or send us an email to allow us optimum planning management.
- We prefer payment by transfer, either bank or Paypal.
In the event of cancellation, from you or ours, there will be no charge, we rely on everyone's savoir-vivre so as not to cancel the stay at the last minute, managing the situation is difficult enough.
For better living together, we thank you for respecting the gestures prevention barriers.
We wish you an excellent stay discovering our beautiful region and the spaces that surround us.
See you very soon, in a friendly atmosphere!
Corinne and Rémi